France, a privileged host country for international trade shows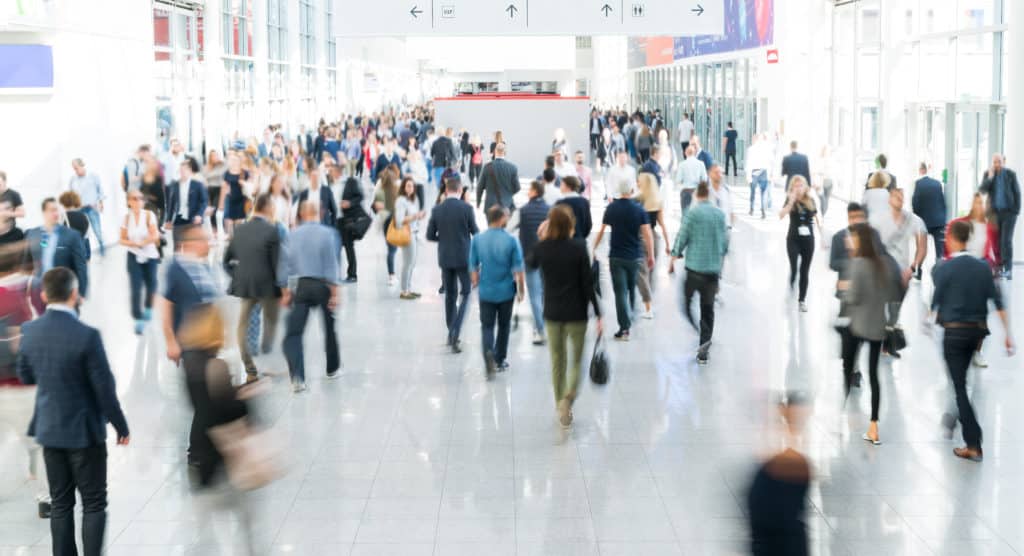 The diversity and international reputation of French trade shows offer real strategic and commercial opportunities to French and foreign companies.
With 82 exhibition centres, 645,000 hotel rooms and 40 international airports, France has an impressive accommodation capacity.
Genuine business and networking hubs, the 750 public and professional trade fairs received 12.5 million visits (of which 20% were international) and 101,000 exhibitors (of which 34% were international*).
*Source : Event Data Book 2019, Unimev
Paris, the leading international place for business tourism
The Paris region, and more particularly Paris, a city of art, history and culture, receives nearly 50 million visitors a year, of which 20 million are international, making it the world leader in both leisure and business tourism.
At its 21 major exhibition and conference venues, with 700,000 sq.m. of exhibition space, Paris Region hosted 434 exhibitions (216 for professionals and 218 for the general public) and 1,084 conferences attracting 105,000 exhibiting companies, 8.1 million visitors and 922,000 conference attendees* in 2019!
*Source : CCI Paris Ile-de-France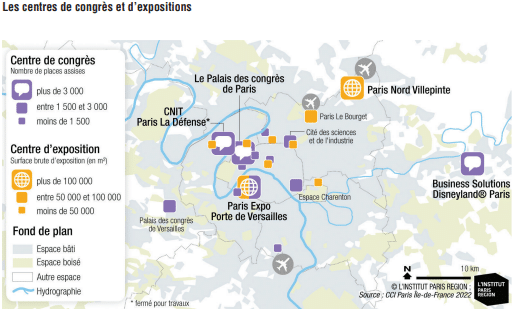 Reception and transport on a par with events
Paris has an unrivalled hotel capacity with over 155,000 rooms and 2,400 hotels in a wide range of comfort. The region occupies a privileged position in terms of transport: road, airport and rail links place the capital close to the major French and European cities.
Find a venue or accommodation in Paris
The "Welcome Pack" set up by the business tourism industry (Viparis, Paris airports and ACCOR) aims to provide a better welcome, information, guidance and transport for international participants at a trade show in Paris. The Welcome Pack provides a reception facility at the airports, free shuttle transport to and from the event sites and VIP services dedicated to visitors, exhibitors and congress participants. In 2019, 42 professional events benefited from the Exhibition and Congress Welcome Pack.
7 good reasons to visit a tradeshow in France
1. A resolutely international focus
French international trade shows reflect the global market in their sector. They attract a host of companies from outside France and record large numbers of international visitors, in particular drawing visitors from countries that are less represented at other European shows, such as MENA countries (Middle East and North Africa). French shows act both as a gateway to French and European markets, but also to markets in these regions of the world.
2. A springboard to exports
Trade show channels offer French and international companies the opportunity to network with a large number of prospective clients and suppliers within a concentrated period of time.
3. An international benchmarking tool
As a showcase for the expertise of a given sector or industry, trade shows enable companies to present their products and promote their innovations, and to get an up-close look at their competitors' products and innovations.
4. An efficient and cost-effective media
For every Euro a company invests in their participation in a trade show, it will on average earn back 10 Euros in revenue. A quarter of this revenue is generated during the show, and the remaining 3/4 in the 3 to 10 months following the show.
5. A trusted media
Industry professionals name participation in a trade show as the best, most cost-effective promotional tool, ahead of the internet and visits by sales reps and dealers.
6. A strategic business accelerator
Exhibitors generate a significant portion of their annual revenue at shows, which are fantastic trading platforms. In addition to taking orders, there are a wealth of other strategic benefits here: finding out about a market, launching or discovering a new product, boosting brand awareness, bolstering your presence, prospecting and signing new contracts, forging contacts with suppliers, buyers or distributors etc.
7. A comprehensive and sectorised offer
French shows are divided into distinct sectors: Exhibitor categories are clearly defined and visitor trails personalised to meet the specific needs and desires of each individual visitor. French shows guide and direct the visitor through an easy-to-navigate area, enabling them to get the most out of their visit.