A global event network to animate the community of the composites industry
Organized every year in Paris by the JEC group, JEC World is the world's leading exhibition for composite materials and their applications. Both publisher of the JEC Composites magazine, a reference media in this industry, of a set of digital channels (including a dedicated Web TV) and event organizer, JEC has a global strategy for the development of its ecosystem to consolidate its position as a leader in the sector. In addition to the international trade show JEC World in Paris, an unmissable event, JEC organizes regional events Forums, business meetings adapted to the local market (in ASEAN in Bangkok, in Italy and in the DACH region – Germany, Austria and Switzerland), and has recently set up a series of meetings in specific markets in order to allow local players to meet, discuss local and international market trends, and promote JEC media and events. These operations may evolve in the future to become recurring JEC Forums or remain one-off operations.
 
Entitled "JEC Composites Talks", these meetings are organized with the collaboration of the Promosalons network. The first steps took place in Asia in December 2022, with two particularly successful operations in Korea and Japan. Others are planned for 2023 and 2024, some of which are already being prepared, particularly in India and Brazil. In a half-day format, each "Talk" brings together participants with various profiles such as associations, universities, research centers, companies (supplier or buyer profiles), all specialists in the composites sector. Beyond the content provided by conferences and round tables, professionals appreciate meeting for networking meetings and to activate business opportunities. For JEC, these are essential moments of connection with local composite ecosystems in order to involve them, to identify innovations and market information to highlight them in their media, to encourage them to participate in the various innovation competitions, and to meet at JEC World. 
The first JEC Composites Talk was held on December 6 in Seoul at the Startup Branch of KITA (Korea International Trade Association). More than 70 people from the composites community, associations, companies and local universities, were present to discuss company and market trends, and to share knowledge and experiences. In partnership with KITA, JEC and Promosalons Korea also organized the JEC Composites Startup Booster Asian Tour, whose five finalists pitched the same day in Seoul in front of the members of the jury. The winner was revealed after the discussions: CATACK-H was one of the finalists of the JEC World Startup Booster competition in Paris, being part of the Startup Village on JEC WORLD 2023.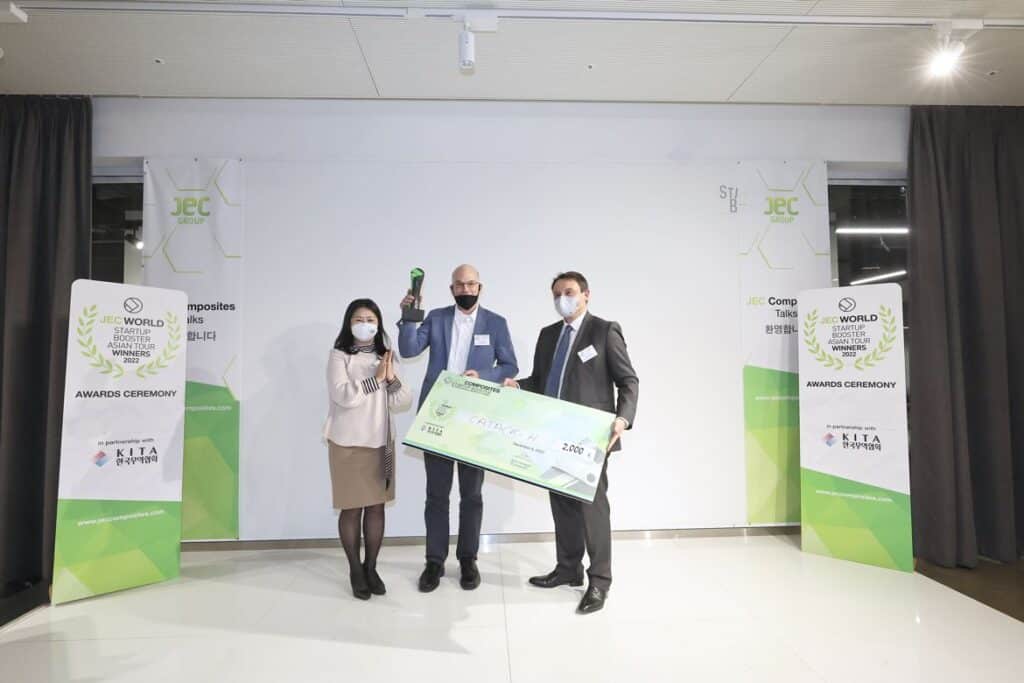 Eric Pierrejean, President of the JEC Group, said:
"It was a great opportunity to reconnect with the South Korean composites community, to share market trends, innovative projects with Korean startups and show the dynamism of our industry. We would like to thank our partners KITA, KCarbon and Hanyang University for supporting this event".
This first JEC Composites Talk was entirely organized by Promosalons Korea in coordination with the JEC teams. The local presence of Promosalons in Seoul has made it possible to identify valuable local partnerships such as KITA and KCarbon, and to mobilize speakers and guests, before and after the event. 
The JEC team then went to Japan from December 7 to 9, to promote the JEC brand to Japanese professionals. The meeting organized on December 8 by Promosalons Japan was a great success, bringing together 78 people, including 10 speakers. Interventions focused on the composites market in Japan, as well as positive feedback and success stories from Japanese companies thanks to JEC. On these two meetings, the company MFTech accompanied JEC to present its organisation and how it was able to develop by setting up locally in Korea and Japan. Thus, with this new meeting, JEC accomplishes its mission to connect the world with the composites industry by creating additional opportunities to exchange between local and international players, on their challenges and their solutions, to make themselves known to new players, and to propose solutions to the challenges of sustainable development.